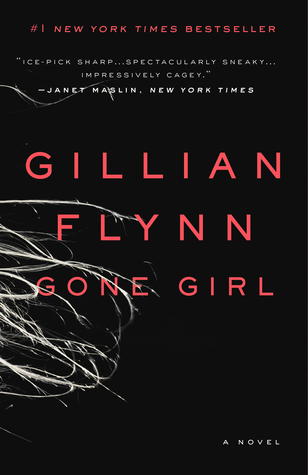 I remember this book being all rage two years ago. I know, it's been 6 years since its release, but my friends were all gaga over it after the movie came. I knew it was a psychological thriller and the girl was crazy. But that was my minimal knowledge pertaining the book. I wanted to read something different and I picked up Gone Girl randomly. I was amazed and frankly disturbed after reading this. And I guess that was the author's intention.
The Blurb: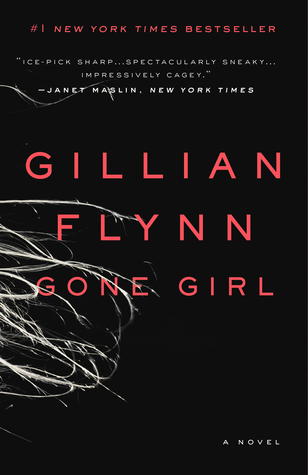 On a warm summer morning in North Carthage, Missouri, it is Nick and Amy Dunne's fifth wedding anniversary. Presents are being wrapped and reservations are being made when Nick's clever and beautiful wife disappears. Husband-of-the-Year Nick isn't doing himself any favors with cringe-worthy daydreams about the slope and shape of his wife's head, but passages from Amy's diary reveal the alpha-girl perfectionist could have put anyone dangerously on edge
.
Under mounting pressure from the police and the media—as well as Amy's fiercely doting parents—the town golden boy parades an endless series of lies, deceits, and inappropriate behavior. Nick is oddly evasive, and he's definitely bitter—but is he really a killer?
My Review:
If there was ever a book to fuck with your mind, it is Gone Girl. I mean, I had the spoiler, I knew that the heroine was crazy. I did! But, I still fell, smooth as butter , to Diary Amy. I mean, I wanted to castrate Nick. That's how much she had me in her grip.
First let me tell you, I am a romance reader. I have read almost 800 romance books. I am used to heroes who have their shit together. They are alphas who take care of their woman and everything else. So, Nick was like cheap lemonade when I'm used to Mountain Dew. He was real. And that took some adjusting. Many men are just like him I guess. The Darcys of the world are rare, like oil minefields. Only lucky people get them and the rest of us must make do with coal i.e. Nicks of the world.
OK not a great analogy, but I hope you get what I mean. Nick Dunne was normal, real and painfully inadequate. I never got around to liking him and definitely not in the first half, when I was under the spell of Diary Amy. And when I got to know that he cheated on Amy, I mean come on, I am a romance reader, what do you expect? A peck on the cheek? I really really wanted to do him bodily harm. And I still do.
Amy, Amy, Amy. God that woman. She changes characters like she changes jeans. She is like a chameleon humanoid. She plays everything and everyone around her like chess pawns. Actually even worse than that. Chess has rules and Amy defies all of them. To plan a pretend murder for one year doesn't require patience, planning, or even a deep wish for revenge. It needs some nuts and bolts missing in the head. It needs you to be crazy. A psychopath.
You know they that 'Hell hath no fury like a woman scorned', Amy is the testimony of that. The furies in hell may fear her. She is crazy with a capital 'C'.
But, what I really liked in the book is neither Nick nor Amy. I mean a psycho is common nowadays in every media. TV, print, novels. Everyone loves to hate a psycho. Its like bestseller's MO now. What was unique about this book is the base concept. It's not 'good triumphs over evil'. It's not 'Truth always wins over lie'. None of that idealistic concept that helps us get a good night's sleep.
No matter how many people the psycho harm, ultimately the good guy outsmarts the bad guy and makes us feel safe again. Justice is served. Situation salvaged and all that. No, truth, the real unveiled truth that doesn't rely on PR to impress people is always bitter and many people, including me shy away from it, because it will leave us baffled and maybe a bit terrified.
Nick didn't successfully pack Amy to goal. He succumbed to her deviousness and have to probably spend the rest of his life protecting his kid. Desi didn't get justice and ultimately we just know that Amy is super crazy. That's it. The end.
The way the author presented the unadulterated truth in the end is what made this book special.
My Rating:
I give this book 4 stars. There were some places where I felt that the author wanted to show Amy as more dangerous, more intelligent and just more than what she was. She was a psycho, I agree, but not a really smart one. The novel ended with loose threads on Amy's side. I rather hope that the police aren't as ignorant as they are shown in the book.
Chao!
Keep Reading.